After their tertianship, the junior sisters of Saint-Bernard Province dispersed to the different communities of Saint-Vincent Province. Everything was disrupted by the Covid-19 pandemic. Invaded by fear, they wondered how it would end. When the long-awaited lockdown end arrived on August 15, the sisters travelled to Kinshasa on August 17. Although they were happy to return to Kinshasa, they were looking forward to receiving the response of the Generalate.
As they tested negative for Coronavirus in Lubumbashi, they were granted permission to spend 10 days with their families. On 20 August, each of them received their letter of assignment and joined their respective communities. This event taught them patience, endurance and trust in God's providence. In the meantime, they were preparing thoroughly for D-Day. At the beginning of September, they received the response from the Generalate: all were admitted to pronounce their perpetual vows. Thus, their hearts were at peace. The week preceding the vows was very hectic because of the preparations for the feast.
D-Day came on 07/11/2020. Mass began at 9:30 am, presided over by His Eminence Cardinal Fridolin Ambongo, Metropolitan Bishop of Kinshasa. As this was the first time he had arrived in this parish since his appointment, he was welcomed with pomp and circumstance. Although the ceremony lasted 3h30, we did not feel tired: the joy was so immense! We also celebrated the Jubilees of Sister Antonia Tshibombo (70 years), Sister Marie Esther Mianda and Sister Marie Josée Lusakueno (25 years).
The festive meal was shared with all the guests.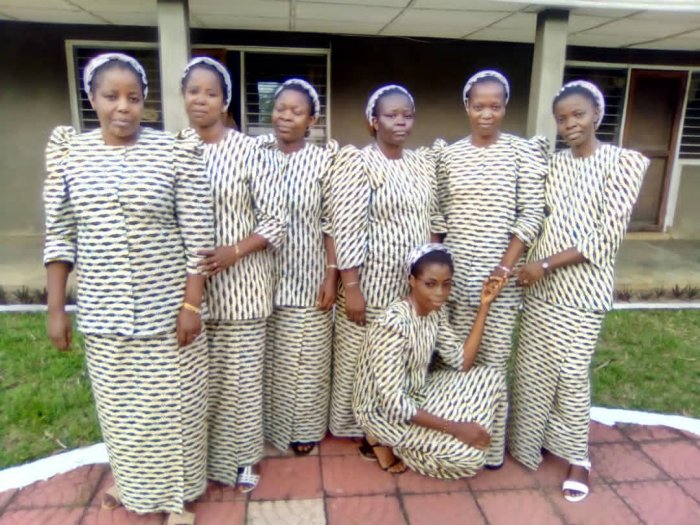 From left to right: Sr. Emilie Keboka Vadiambu, Sr. Flosine Modiri Ashobuna, Sr. Honorine Bwese Mandjoko (Saint Vincent de Paul Province), Sr. Espérance Elisabeth Malanda Futi, Sr. Germaine Kuyinu Nkembisila, Sr. Aimée Mavula Kaba. Seated : Sr. Joséphine Mbongata Makashi (Saint-Vincent-de-Paul Province).
Sr. Marie-Madeleine Mujinga