4th November - Foundation Day! In honour of this day, the community spent the day before the Blessed Sacrament in praise and thanksgiving for the countless blessings we have experienced over the last 218 years, and interceding for continued blessings on each one of us in the Congregation.
Sr. Inès is a Carmelite sister of the Contemplative Order, currently a member of their Community next door to our Generalate. She is a former SCJM, celebrating her diamond jubilee this year. We knew that she still has a very special place in her heart for our congregation. So, on this occasion of her jubilee, we invited her to join us on our Foundation Day. She received a special permission from her prioress and was with us for lunch. Certainly she was excited and had many stories to share with us!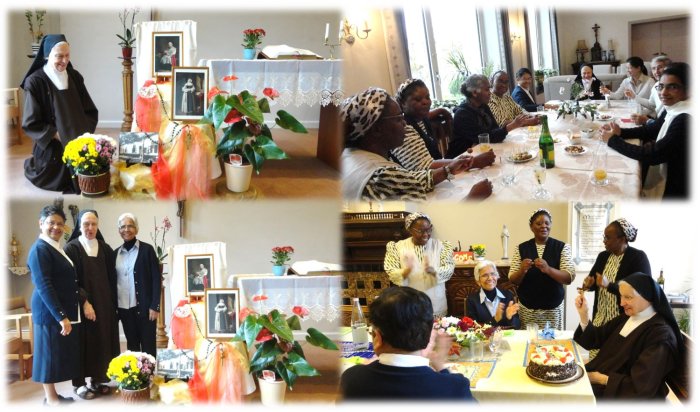 In the evening, after the Eucharistic celebration, Fr. Michel Christiaens, our parish priest, joined us at supper. It was an occasion for him to get to know our congregation a little more.
Soon after the celebration of the Foundation Day, the General Council members got busy with the nomination process for the appointment of a new leadership team in Rwanda, the Vice Province of Our Lady of Kibeho. Srs. Cécile Ndaya and Angélique Dikete were delegated to facilitate this process.
We now have a new team in the Vice-province, consisting of Sr. Mary Paul Vadassery as the Vice-Provincial, and Sr. Athanasie Mukangoga and Sr. Yvonne Ngomba Lukusa as Council members. They were installed on 11th evening, on-line. We thank them for their generous "yes" to the Lord in serving the vice province and the congregation.
May the Lord bless you and guide you in your ministry of leadership!

From left to right : Sr. Athanasie Mukangoga, Sr. Mary Paul Vadassery and Sr. Yvonne Ngomba Lukusa
The threat of pandemic is not yet over in Belgium, but with much restrictions and caution, we may move around. So, beginning from today, Sr. Lucy Jacob will be in the Dutch-speaking province for a canonical visit. Along with Sr. Lucy, let us be with our Sisters in this province in prayerful support.
While Sr. Roshni is preparing herself to leave for India to pay a visit to her father who has been very sick for quite some time now, some others of the community will soon be beginning their annual retreat. The community of Ave Maria in Saint Servais (Belgium South) is happy to welcome them.
---