After a long waiting, the fourth member of the International Community has arrived! Sr. Gertrude Kindeke Aliop of St. Bernard Province, Congo finally reached Brussels on 17 December 2021. She spent a couple of days with at Generalate and on 22nd she went to join the other three in Terhaegen, Ghent where she was warmly welcomed by the sisters. We wish Sr. Gertrude every blessing for the accomplishment of her mission.
As you already know, General Councillors Srs. Angélique and Cécile are in the province of St. Vincent de Paul, Congo to facilitate the process of the nomination of a new leadership team. We have now the joy of announcing the names of the new Provincial leadership team of the province:
Provincial Superior : Sr. Isabelle Ilunga Kazadi,
Provincial Councilors : Sr. Marie Jeanne Muleka Kabangu
Sr. Carine Solange Kupela Kasongo
Sr. Hélène Mujinga Kanyanga
Sr. Francine Wumba Kini.
Congratulations dear Sisters! We wish you a fruitful mission of leadership in the province. Our prayerful support is always with you!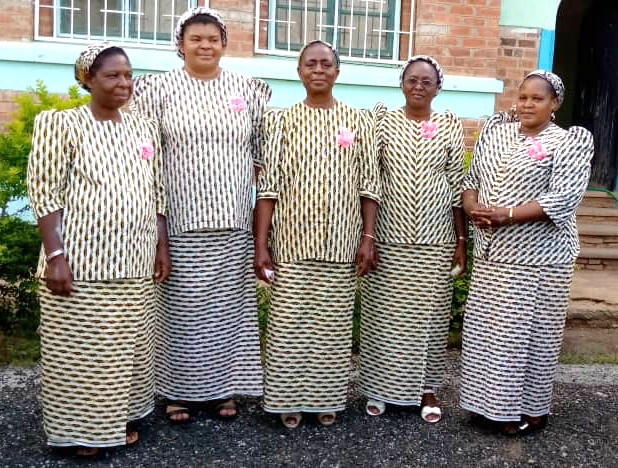 As coronavirus still having its control over us, we continue looking for alternate ways of organizing important events of our life and mission. This, the region of Our Lady of La Vang, Vietnam has planned a tertianship program in the region itself. The six junior sisters, Srs. Teresa Le, Maria Thao, Teresa Phuong, Anna Lien, Anna Thang and Anna Thuy have begun their tertianship on 27th December in Placid House. Sr. Lucy gave them an on-line orientation talk which was followed by a Holy Mass in the evening. Sr. Suman Toppo as the tertian mistress will accompany and guide them during this period of preparation for final vows. Our prayerful wishes to you, dear sisters.
This is the last time we 'meet' this year! We say Good-bye to 2021 and welcome 2022 with much hope and trust in the Lord! We wish you all the blessings of Christmas to last all the year through!