Pakistan has experienced prolonged heat waves in April this year. It has been much hotter than ever before. In this climate change the heavy rains could be expected and this is what happened in Pakistan. After the blazing hot weather unusual heavy rains started in June, a month before the normal season of monsoon in the area. The River Indus, the longest river in Pakistan which originates from Himalayan region flowed down with furious gushing waters resulted from the global warming and melting of glaciers. The poor people have suffered not only the natural disaster but also the human selfishness and cruelty. These floods have affected mostly the Province of Sindh and Baluchistan and the Southern Punjab. These are the areas where the marginalized, tenants and bonded labourers live.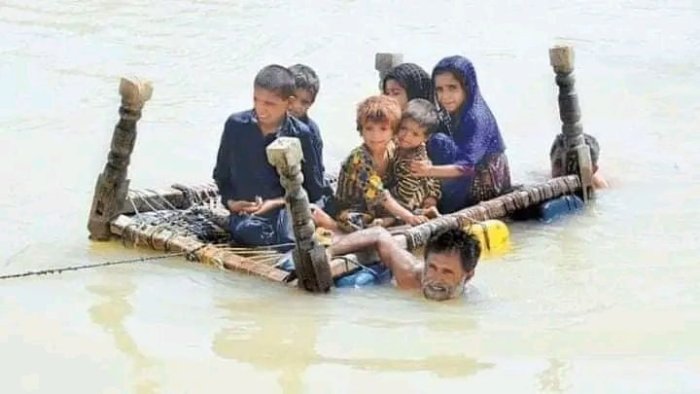 The rich land lords diverted the direction of the water towards the villages of the poor people in order to save their land and properties. In the northern areas of Pakistan the lightning strikes caused heavy floods of stones and water which caused much damaged to the buildings and restaurants on the river banks. Water – reservoirs could not hold the waters and about 25 of them got collapsed aggravating the tragic situation manifold. About one-third of the country is affected by these floods. Thousands of families are displaced and exposed to the harsh-weather under the open sky. The roads and railway-tracks are underwater All the transportation and communication is paralyzed. The only means to reach to these people and take any kind of help are boats and the helicopters.
The loss of human lives, life-stock and properties is beyond comprehension. There is continuous stress and depression which causes psychological problems.
The government of Pakistan, the local Church and many other religious and social organizations are busy in helping the flood affected people. The other countries are very kind and generous in putting their share as well.
Considering and reflecting on the existing situation and hearing the cry of the poor, our province responds to the challenges and demands by motivating the sisters for simple lifestyle and inviting the students, staff and parents to actively and generously contribute for the rehabilitation of these suffering people. It will take a lot of time for them to resettle in life.
Please remember our people, our Pakistan in your daily prayers.
---