Peter Joseph Triest was born in Brussels on 31st August 1760 in a well-to-do family. He first attended the Jesuit school in Brussels and went on from there to the Latin School in Geel. Subsequently he followed a two-year philosophy course at Louvain University. At the age of 22 he began his studies for the priesthood at the Seminary in Malines and was ordained priest in 1786.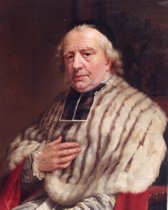 He began his ministry in Malines and the surrounding district. In 1797 he was appointed parish priest of St. Peter's, Renaix. It was then that Triest refused to take the oath of allegiance to the Republic and decided to go into hiding in order to help his parishioners in their spiritual needs. After the signing of the Concordat in 1802, Triest could openly take over the parish of St. Martin in Renaix but his stay there was short-lived. One year later he was transferred to Lovendegem, where he would start his life's work. He was moved by the poverty and misery of the people around him, especially the plight of children. Hence, he gathered together a small group of young women to work for the care and education of the most needy.
Thus in 1803 he laid the foundation of his first Congregation, the Sisters of Charity of Jesus and Mary. In 1806 he was appointed as member of the Poor Relief Committee in Ghent. It was in that function that his pastoral inspiration started to really grow. He devoted practically all his time to the elderly, the poor, the mentally ill, and to foundlings or, in other words, to those in whom society did not seem to take any interest. In 1807 he founded the Congregation of the Brothers of Charity. The Brothers' duties consisted primarily in nursing the impoverished elderly and mental patients. In 1825 he founded the Brothers of St John of God who had to nurse the poor in their homes (this Congregation is no more). One year before he died, in 1835, he founded the Sisters of the Childhood of Jesus who had to look after foundlings.